Easter is knocking on our doors! Don't you wanna greet him inside with a special handmade Easter wreath?
I bet you've seen loads of Easter wreaths in the market and online, but, you and I both of us know that there is nothing like DIY. So, this Easter Sunday, allow yourself to save some money and make some time to get busy DIYing.
You will find all the inspirations and ideas right here and believe me or not, they are the best! After much hard work (yes, choosing the best from the best, is surely a lot of hard work) I have picked out some easy DIY Easter Wreath Ideas and Easter door decoration ideas and, I am certain that you'll be willing to try them out.
So, get ready with your Easter wreath supplies and let's dive right in.
Wreaths are fabulous, fantastic and fascinating. Easter which is a celebration of spring, life and liveliness lack that magic without a proper wreath. Not only does the wreath talks back to your guests, but it's also the first thing which catches their attention. From Easter Bunny wreaths to Easter Egg wreath here's a bucket-full of all that and so much more! Just have a look.
DIY Easter Wreaths & Door Decoration
#1. He Is Risen Deco Mesh Wreath
#2. Tulle Wreaths
#3. The Cutie-Pie Bunny Wreath
#4. The Adorable Chick Wreath
#5. Religious Wreath
#6. DIY Easter Egg Wreath
#7. Paper Wreath
#8. Simple Wreath
#9. Amplified Cuteness
#10. DIY Basket Wreath
#11. Spring Bunny Wreath
#12. Egg & Bunny Wreaths
#13. Cute Bunny Wreath
#14. Spring DIY Wreath
#15. The Magical Ribbon Wreath
#16. Cute bunny Adorning the Door
#17. Cheerful Wreath for the festival
#18. Door Hanger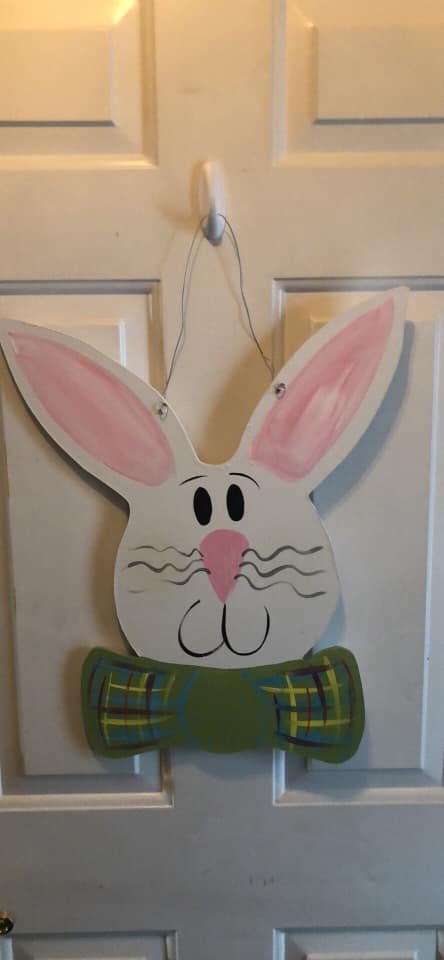 #19. Easter Eggs for decorating the door
#20. Three Bunnies hanging together
#21. Cute Wreath
#22. Deco mesh and ribbon wreath
#23. Pink Deco mesh wreath with Easter sign in the middle
#24. Easter door decorated with Tulips
#25. Bunny butt Wreath
#26. Miss Bunny Wreath
#27. Natural White
#28. Rainbow Egg Wreath
#29. Tulip Wreath
#30. He is Risen Door Decoration
#31. Pom Pom Wreath
#32. Easter wreath with a cross and rustic grapevine
#33. Amigurumi Easter wreaths
#34. Easter carrot orange deco mesh wreath
#35. Embroidery Hoop Bunny Door Hanger
#36. Cross Wreath
#37. Easter Rabbit Wreath
#38. Bunny Burlap Wreath
#39. paper Easter wreath
#40. Burlap Door hangers
#41. Black Buffalo Check door hanger
#42. Bunny Face Easter Wreath
#43. Easter Door Swag
#44. He is Risen Burlap Cross Wreath
#45. Unique Wreath
#46. Tulips to decorate the Spring Door
#47. Egg Wreath
#48. Spring Front door Wreath
#49. Innovative Wreath
#50. Spring Wreath with Hearts and Eggs
#51. Daisy Wreath
#52. Faith Wreath
#53. Rustic Easter Wreath
#54. Colourful Spring Wreath
#55. Farmhouse Wreath
#56. Bunny Butt
#57. Happy Easter Wreath
#58. Cotton Wreath
#59. Tulip Door Swag
#60. Cute homemade Easter Wreath
Hence these all the easy DIY Easter Wreaths which I was talking about. I hope you liked these Easter wreaths for the front door and are willing to try them right now. Comment below and share your views on this article. Share it on your social media profile and spread Easter greetings all around the world. Until next time, Spread the Love…