Outdoor Kitchen Ideas
Dining al fresco is only half the fun — things really heat up when you bring the entire cooking experience outside. Set your sights on the gorgeous details within these outdoor kitchens, and get inspired to design something similar for your own backyard.
Entertaining expert Lulu Powers dreamed of a copper bar for years, but worried it would turn green. Treating the counter and shelving with lacquer staves off weathering, and provides a glam places for outdoor cocktail parties.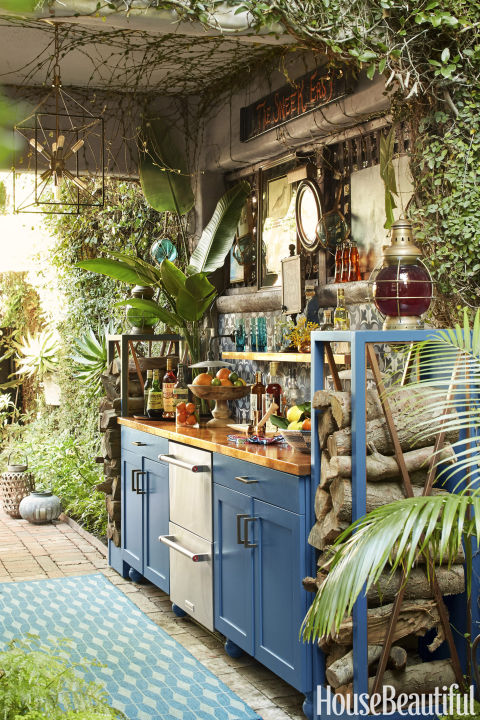 Five stories above Brooklyn, a tar-paper roof became a gourmet cooking spot with panoramic views of the New York skyline. A charcoal grill anchors the space, but the beverage station provides the real magic. A slide-away cutting board and insulated ice bin make mojitos a snap.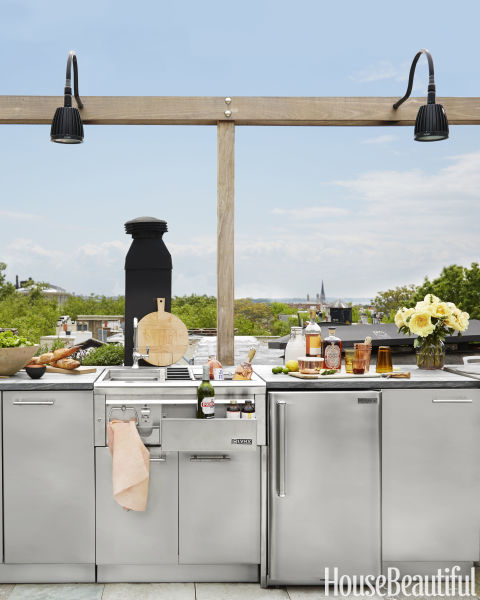 Inspired by a similar basin at the famous Greystone Mansion, an outdoor sink features an inset container for blooms. The vessel also functions as an ice bucket for wine — just pull the plug at the bottom when the party's over.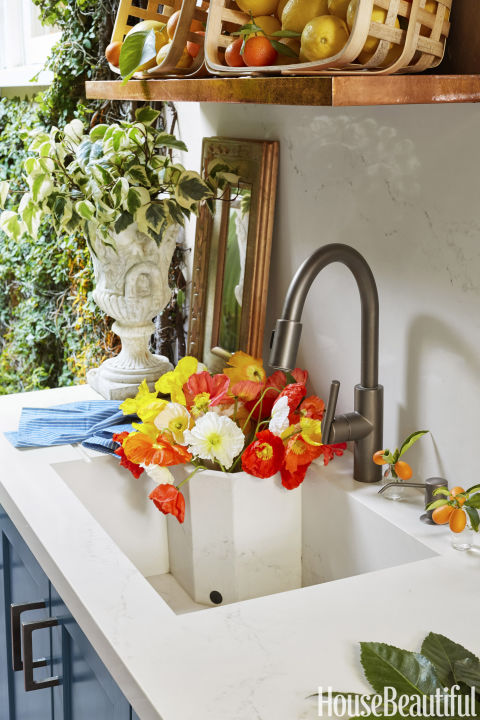 In designer Bonnie Edelman's Connecticut house, the pool kitchen's stained oak ceiling pours warmth over cool stainless-steel cabinets. A drop-down metal gate protects appliances from rain.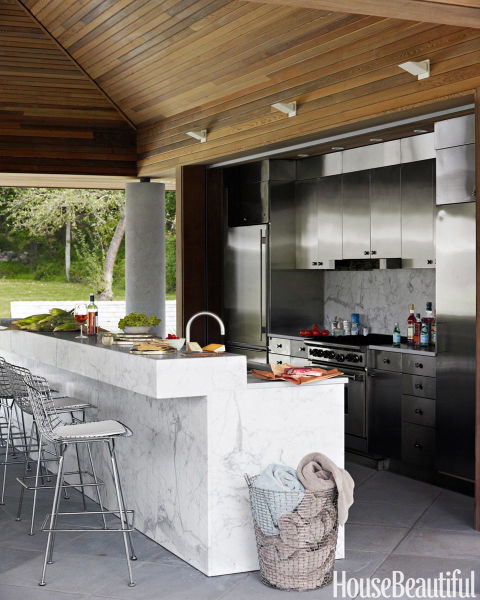 This outdoor kitchen in California takes its colors from the earth and the sky. A Viking warming drawer is conveniently closest to the Fogazzo 1050 pizza oven. "It's all about entertaining," architect Michael Layne says. "People are going to gather where cooking's going on, so you need lots of counter space and plenty of seating."
In Malcolm James Kutner's Key West house, the outdoor kitchen cabinets are made from old cypress shutters supplied by restorer Liz Devries. "With outdoor living in general, it's about being friendly with nature and inviting it inside instead of trying to draw that heavy line in the sand that says, 'This is the outside and this is the inside,'" he says.
BLUE CABINETRY
In Dianne Bernhard's Connecticut kitchen, cabinets with Nantucket-style doors and blue-toned Caesarstone on top pick up the colors of the water just beyond the deck. "We really do live out here during the summer," Bernhard says. The ceiling is painted Benjamin Moore's Blue Springs.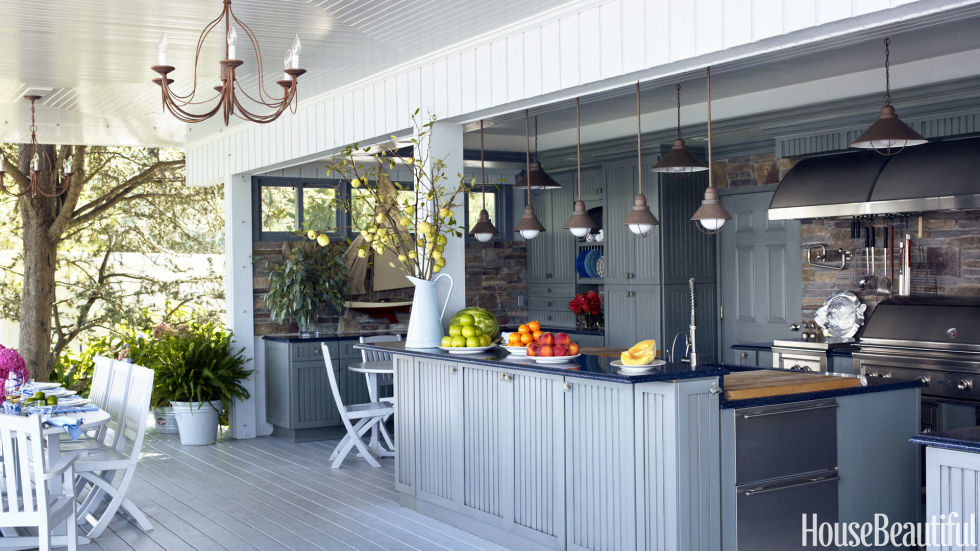 A stunning outdoor fireplace, earthy ochers and greens, and beer on tap make it a great place for a party.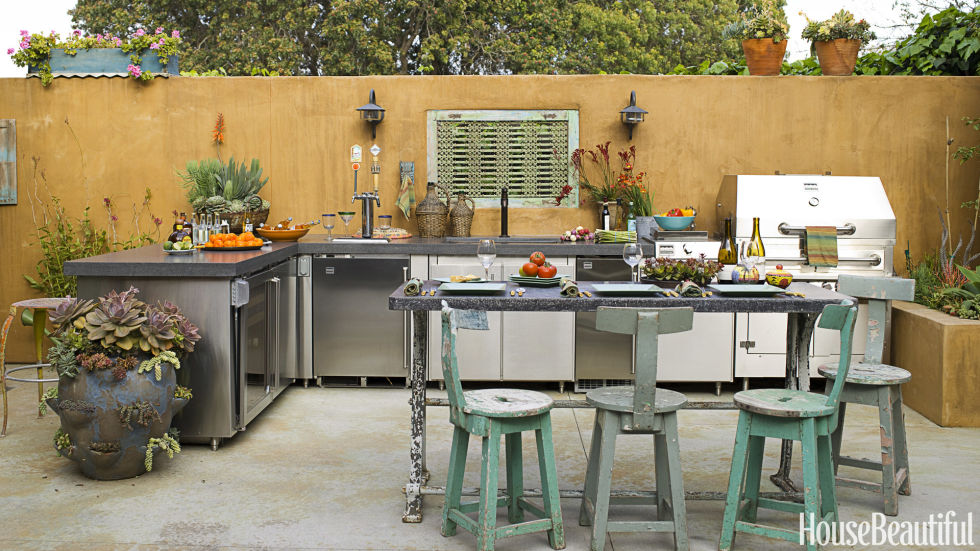 Much more than a place to grill a burger, this kitchen design in Nantucket, Massachusetts by landscape architect Kris Horiuchi, has it all – grill, cooktops, refrigerator, sink, even a pizza oven. Get Outdoor Kitchen Ideas and check out the pictures for a taste of summertime.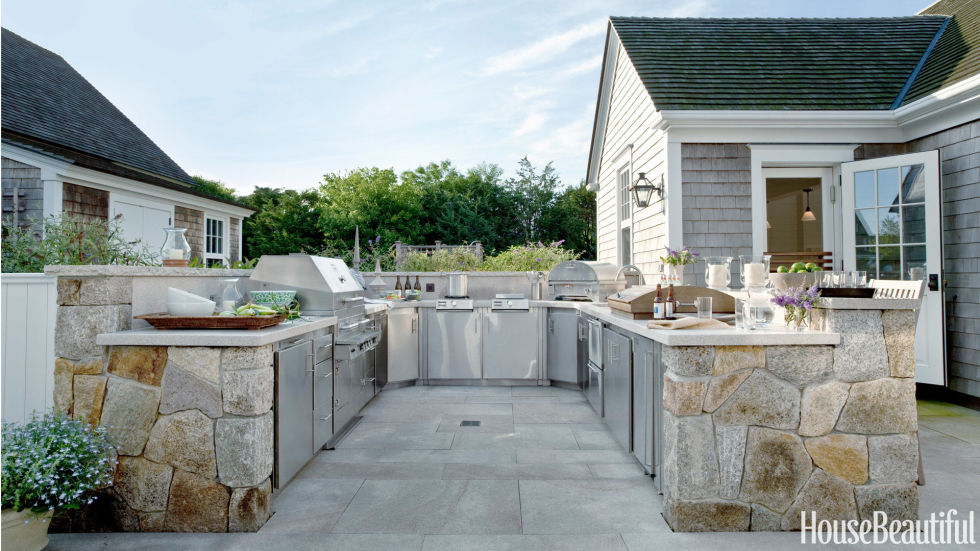 STONE VARIETALS
MULTIPLE SPACES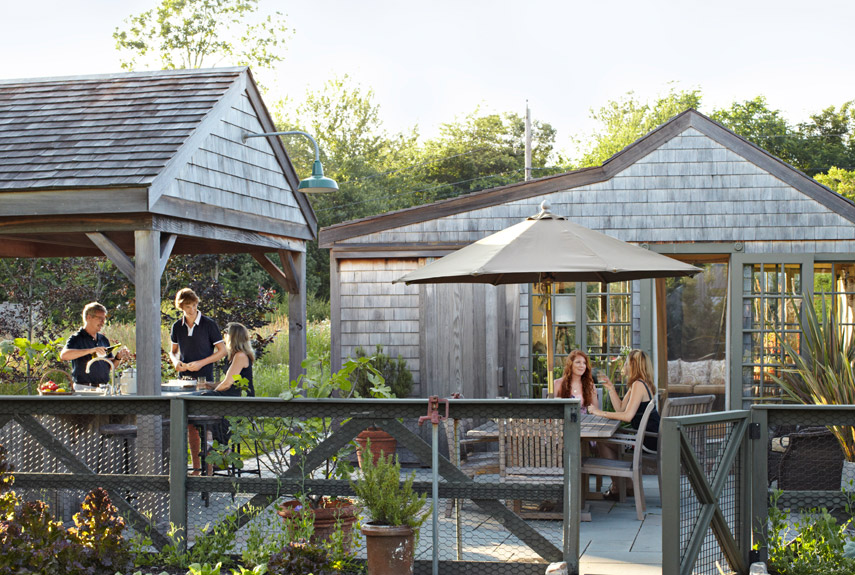 The backsplash of a New England kitchen is beefed up with a bar counter, where guests can sit and chat with the cook.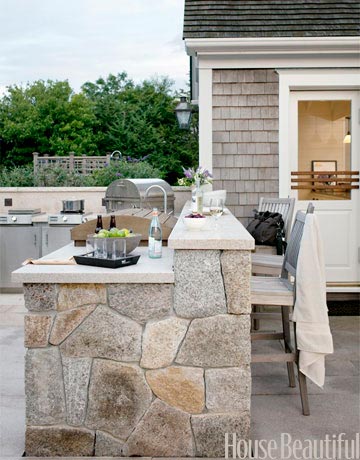 COZY FIREPLACE
The seating area of this California kitchen blends seamlessly into the surrounding garden thanks to an abundance of potted plants.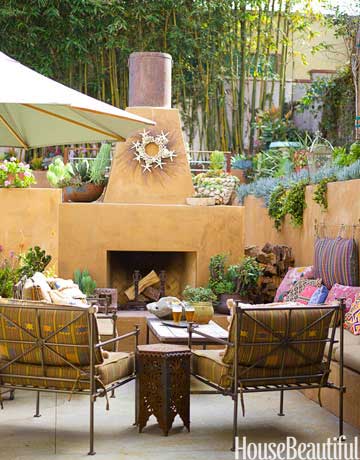 It was the owner's idea to turn the sink within a Nantucket kitchen into a beverage cooler with a teak top.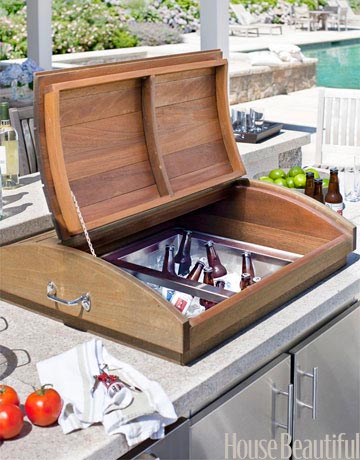 There's more than just burgers and dogs on the menu at this Massachusetts kitchen. The hybrid grill can be ready to cook in 10 minutes, using any combination of charcoal, wood and gas. The gas burners will do anything from low and slow barbecue at 225 degrees to searing meat at 800.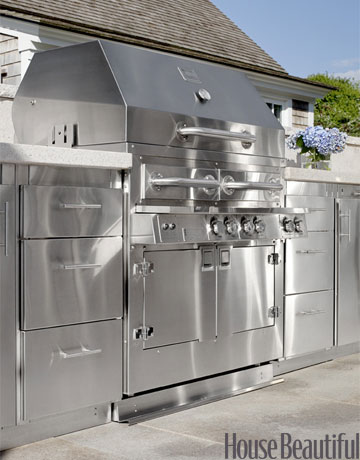 This Manhattan Beach kitchen features a beverage center modified to store wine, with a keg tapper nearby.
Small details make a difference for this California kitchen. A lamp made from a barn vent sits on the counter above an icemaker and refrigerator. Interior designer Erin Martin chose the rope handles on the cabinetry.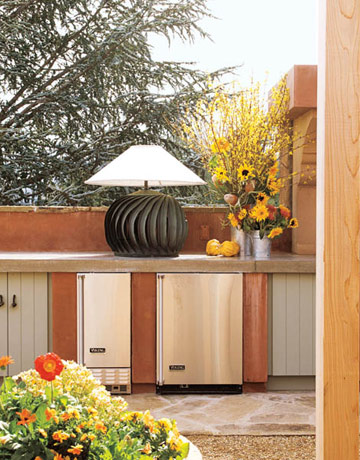 INCLUSIVE ATMOSPHERE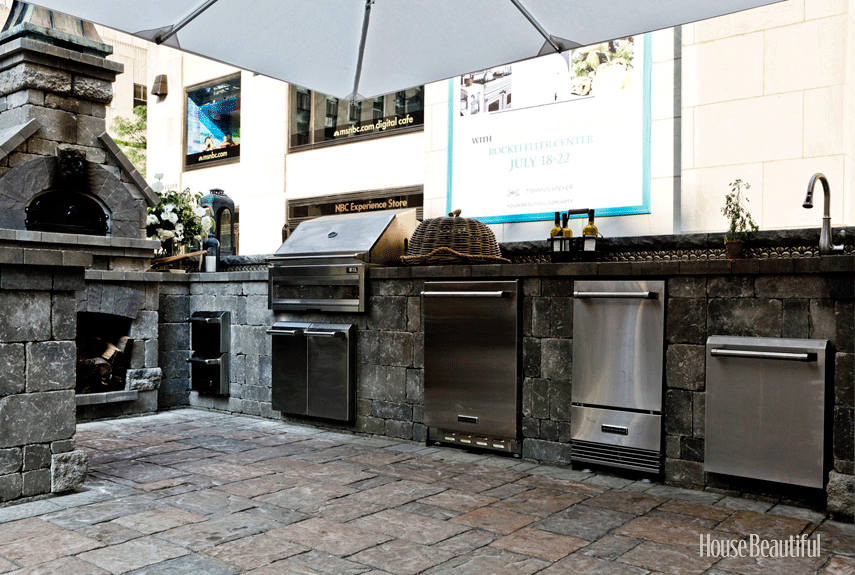 Keep your grilling station organized with a cleverly hidden drawer. In this Nantucket kitchen, utensils hang inside a cabinet, out of the way until needed.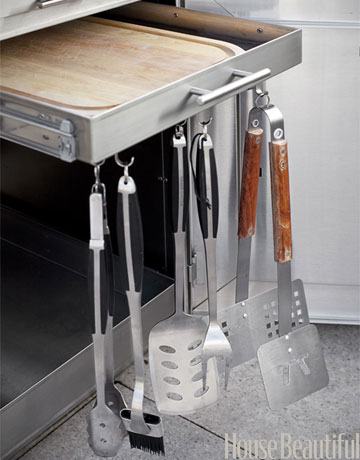 If you can't splurge on a second kitchen, this extra-wide window might do the trick. Designer Erin Martin extended the marble counter from a beach house kitchen outside to make passing food easier.
Outdoor Kitchen Ideas