14 Vintage-Inspired Decorating Ideas for a Boy's Bedroom
These fun design ideas will spruce up any little guy's room.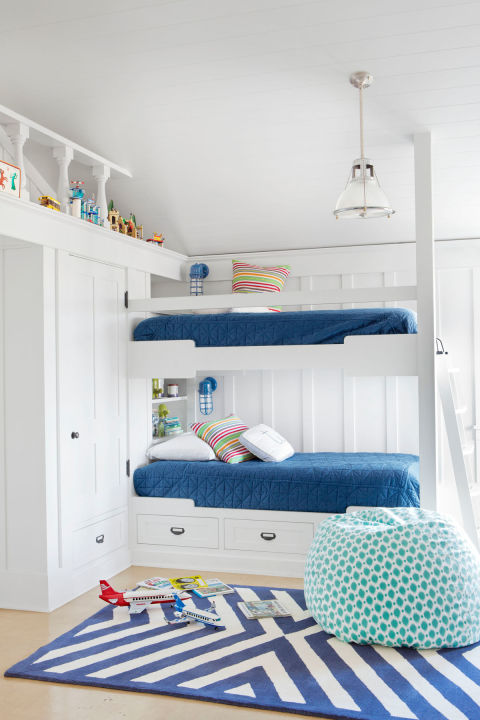 Blue and White
The boys' bedroom in this California home balances white walls with navy bedspreads, a blue chevron rug, and a turquoise bean bag.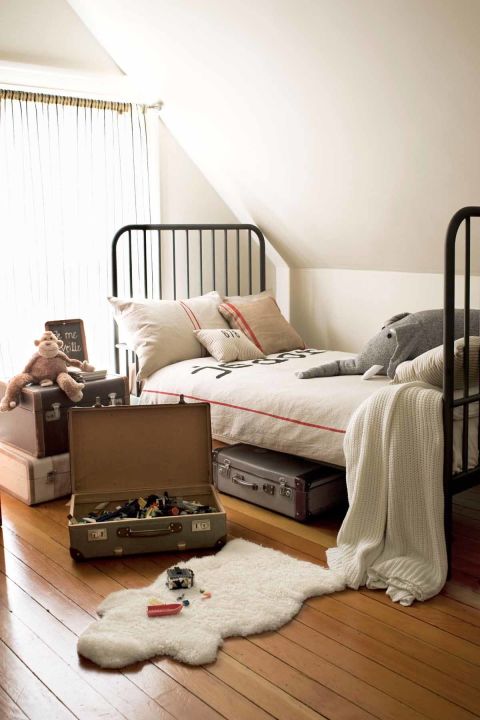 Cozy Room
This San Francisco bedroom involves loads of antique charm. Genius idea: The old-fashioned suitcases double as a great storage space for toys!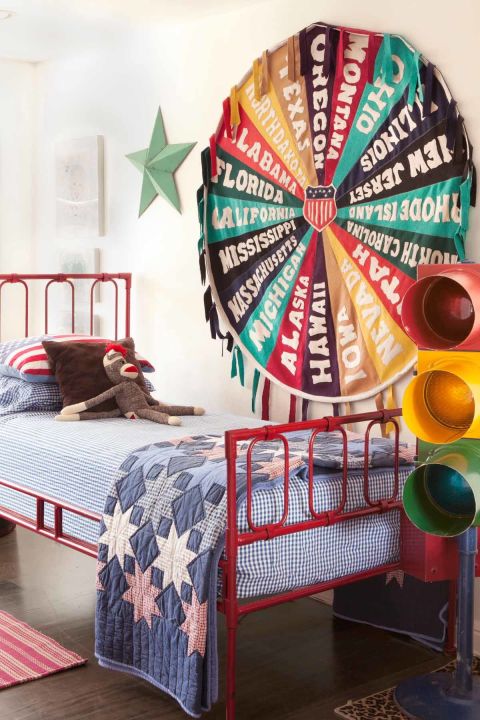 American Pride
The family who owns this California home loves vintage—and in their child's room, they made sure to display some colorful treasures. Some gems include state-pennant artwork and a working traffic light.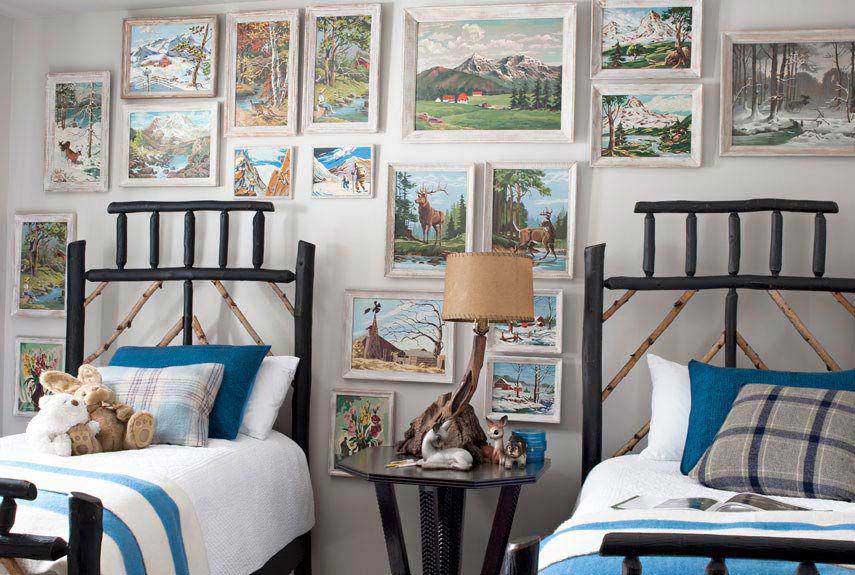 Mountain Motifs
Create a gallery wall of nature-inspired paint-by-number pieces. Along with the burled wood lamp and the textured beds, this room is full of outdoor whimsy.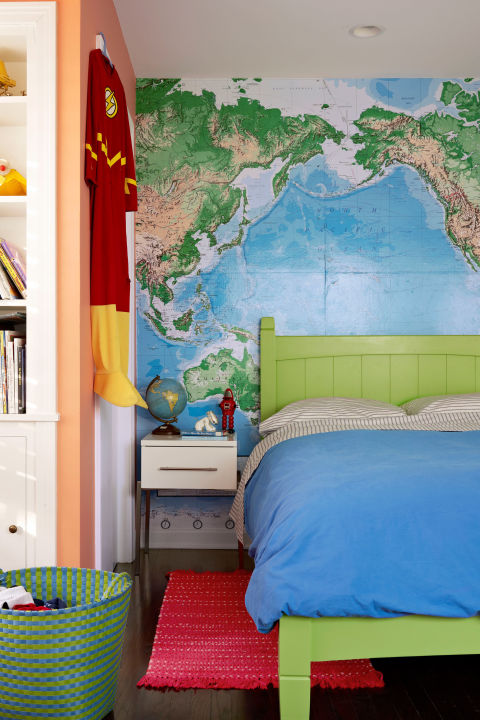 Around The World
This Kansas home welcomes bright, earthy tones to a children's room with the help of dry-erase maps that double as worldly wallpaper.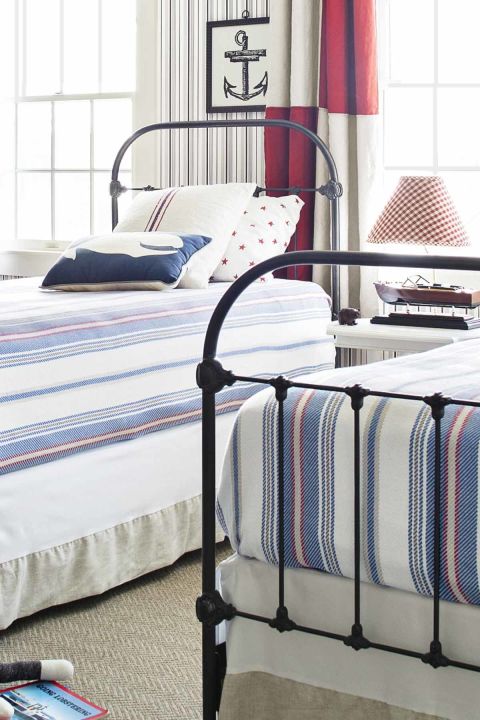 Nautical Decor
This Cape Cod home's kids' room features iron beds, which help define the nautical look—the striped blankets match perfectly with the Ralph Lauren wallpaper!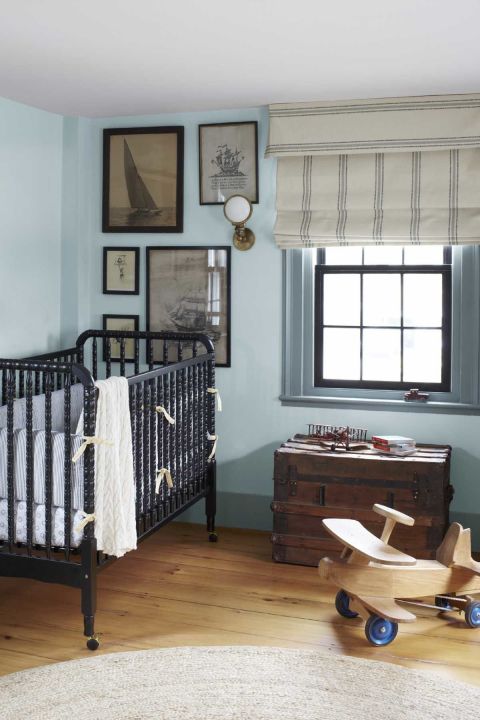 Baby Blue
The owners of this Massachusetts home incorporated antiques into their son's room; the light blue walls add a pop of color.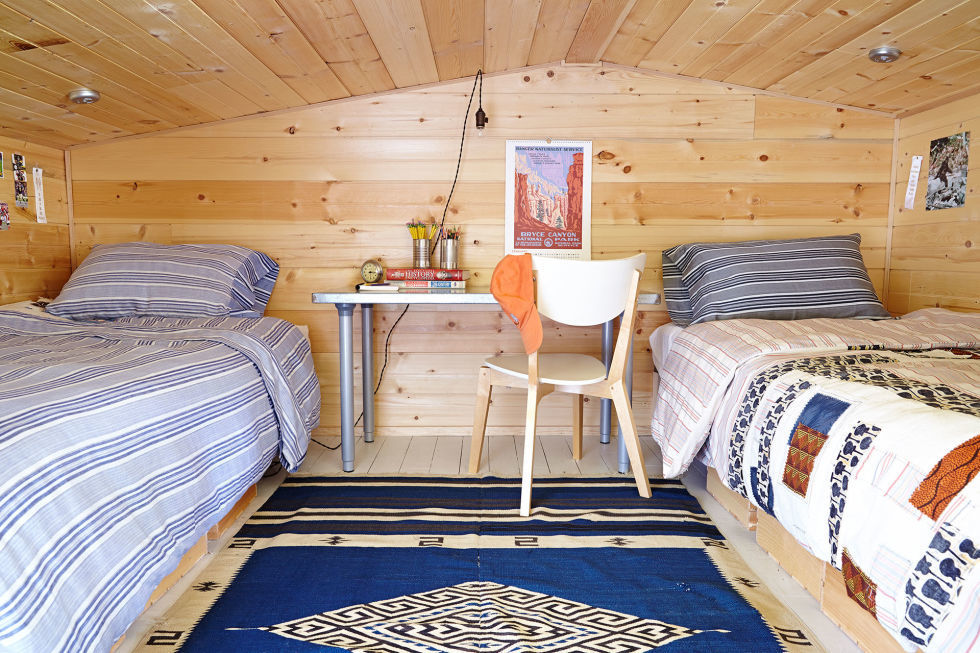 Fixer Upper
The owner of this DIY Wyoming home proves that home improvement projects don't need to be pricey. She sewed three sets of twin bedding from larger sheets and used recycled cans as pencil holders for her kids desks.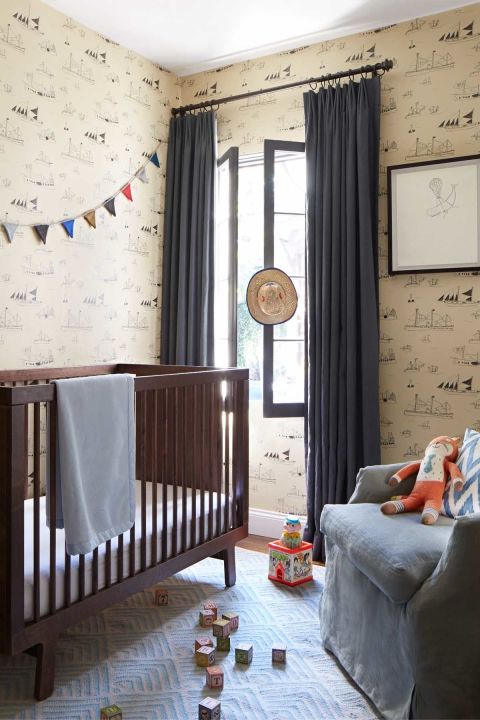 Nautical Theme
A nautical look instantly provides a touch of sophistication in a boy's room. In this nursery, ship drawings cover the cream walls while a brown-and-blue color scheme soothes.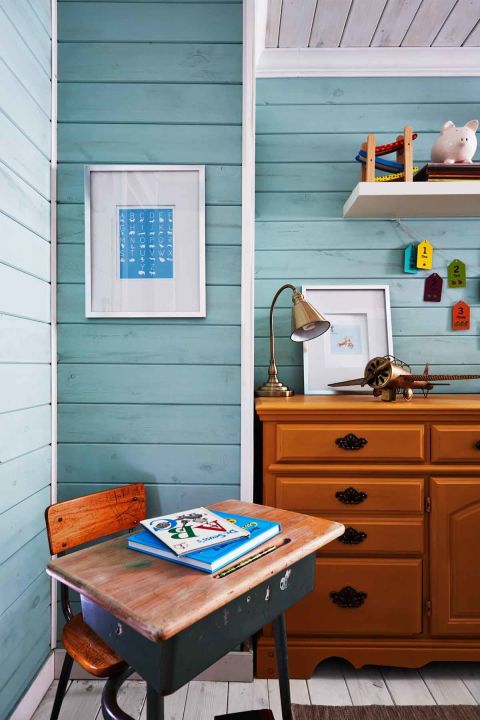 Antique Charm
This family does not waste any space in their small farmhouse. A wooden dresser offers plenty of storage, and a pint-sized desk is perfect for getting homework done.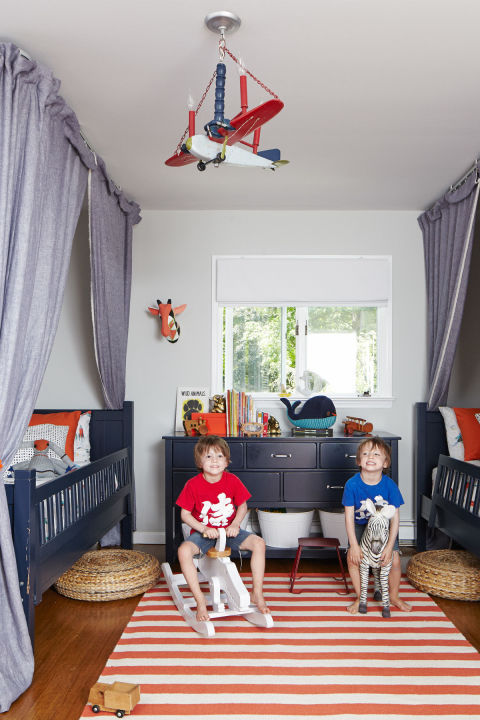 Monkeys on the Bed
Hyper boys will appreciate the fun bedroom inside this New York house! From an airplane hanging from the ceiling to toy wooden rockers, we bet this little ones never want to leave their room.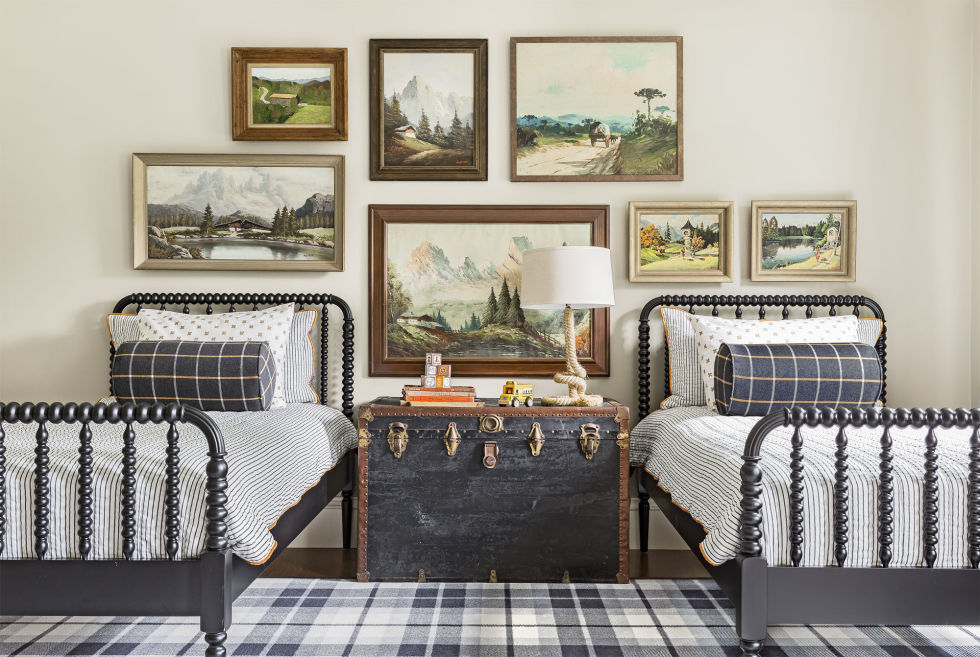 Room with a View
Ditch the posters and invest in some flea market art that inspires adventure. An antique trunk stands in for a nightstand, offering ample storage.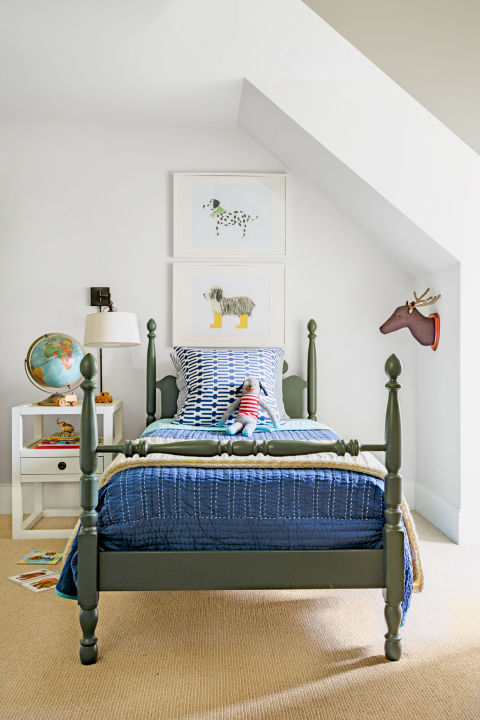 Four-Poster Bed
This Tennessee house extends its rustic theme all the way into the toddler's bedroom, with a dark green twin bed.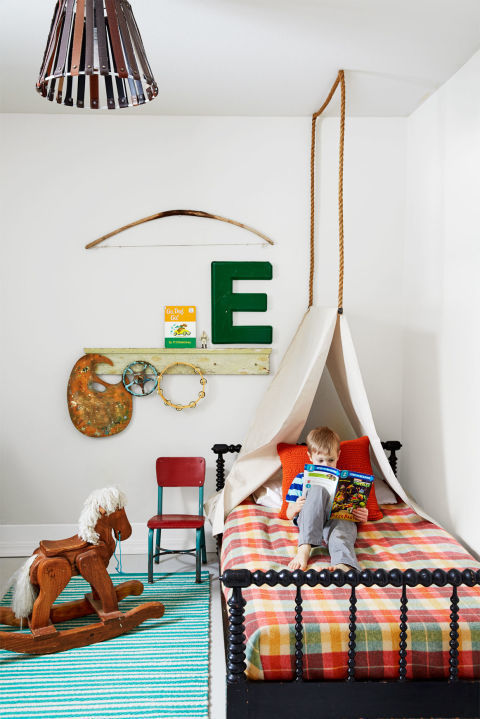 Bed Canopy
Inside this Montana blogger's home, a child's bedroom shines bright with bursts of color and a cozy bed canopy.
source: countryliving